Is Hard Seltzer Keto?
Hard Seltzer drinks are low in carbs and gluten free. If you're on a low-carb diet or keto routine — a spiked seltzer might be a good option if you choose to drink. Hard Seltzer and keto can pair well when trying to keep a low carb, low sugar and gluten free diet routine. 
Which hard seltzer is best for keto?
Sundays Hard Seltzer. PER 330mL Bottle: 75 calories and 4% ABV.

White Claw Hard Seltzer. PER 12 OZ (354mL) Can: 100 Calories and 5% ABV. 

Smirnoff Spiked Sparkling Seltzer: PER 250 mL Can: 72 Calories and ABV: 4.7%

Sparklys Hard Seltzer. PER 250mL Can: 80 Calories and 5% ABV. 

Luke's Hard Seltzer. PER 250mL Can: 77.5 Calories and 5% ABV.
*Data source hip2keto and direct on product in CH market. 
As a part of taking a healthier start to the year, Eating Cheating shared her favorite keto pizza recipe paired with Sundays Hard Seltzer Mango Passion Fruit.
INGREDIENTS
2 cup almond flour

1 1/2 cup shredded Mozzarella cheese

2-3 eggs

1 tsp salt

1 tbsp oregano

1 tsp red paprika powder

1/3 tsp black pepper

1 tsp garlic powder

1 tbsp psyllium flakes (optional)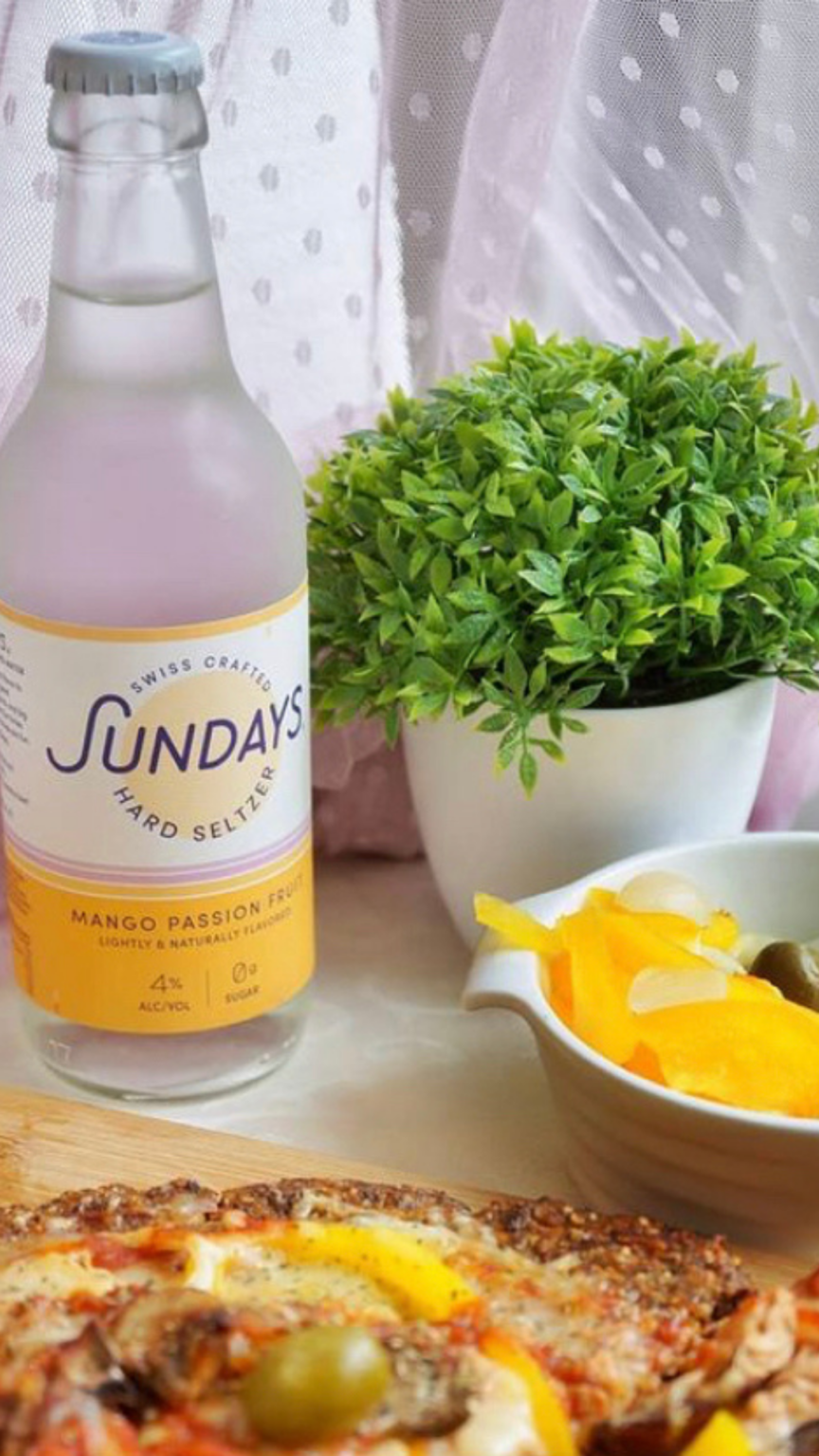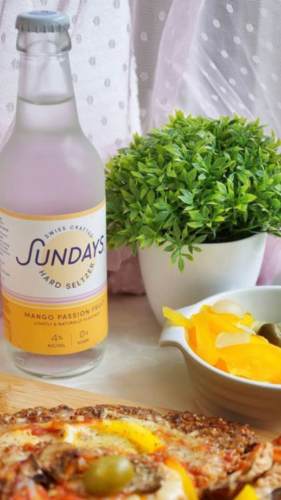 TOPPINGS
Tomato sauce

Olive oil 

Yellow paprika

Onions

Mushrooms 

Tuna

Olives

Oregano 
DIRECTIONS
In a mixing bowl, add all dry ingredients and combine. Add shredded Mozzarella cheese or grate the cheese. Mix everything. Add 2 eggs and combine everything. It has to be like a thick dough.Put the parchment paper on the baking sheet and spread the pizza dough through the whole sheet evenly. Bake the pizza dough on 185°C around 30-40 min or until crispy and brownish.
All ingredients for this recipe can be found at Migros or Coop. Sundays Hard Seltzer is low calorie, sugar free and gluten free. Shop our Hard Seltzer Flavors today.