Sundays Hard Seltzer is proudly Swiss Made. Designed in Zürich, perfected in Bern, and produced in Winterthur. Sundays Hard Seltzer is made with locally sourced ingredients to ensure the highest quality and freshest taste.
This Swiss National Day team Sundays is raising a glass to other Swiss Made products. Here are some of our favorite local brands. If we missed some of your favorite Swiss Made brands – add them in the comments below.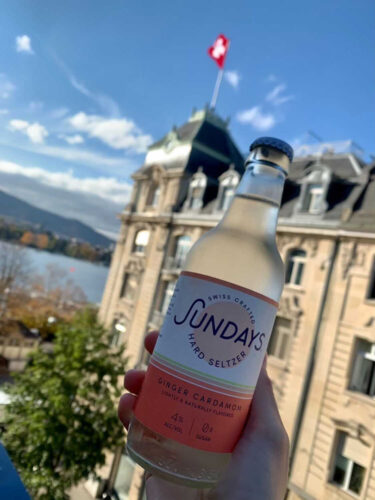 Swiss Made Drinks
Berrics Bottled Magic
– Bern
Handmade strawberry liqueur with lots of love and little magic. 
Ingwerer
– Bern
Handmade Ginger Liqueur. 100% bio and vegan. 
Mount Rigi Gin
– Zug
A new world spin on an old world spirit (gin).  
Mikks
– Zürich 
Perfect drinks in the blink of an eye — from Cocktails to Spritz and Virgins. Crafted by a chef, a bartender and a designer from Switzerland.
Vivi Kola
– Zürich
Vivi Kola was founded in Switzerland in 1938 and became the iconic Swiss cola. It is a brand belonging to the Swiss 'Kulturgut' since over 80 years.
nÿcha Kombucha – Zürich
Premium swiss craft kombucha is naturally fermented. Fair, organic, vegan & gluten free. 
Swiss Made Food
Planted
– Kemptthal
Plant-based meat. Sustainable and clean – no additives. 
Zweifel Chips
– Laufen
Seemingly the national chips of Switzerland Zweifel is at every apero and picnic in the park. 
Madame Sum
– Zürich
Ready to steam dumplings. Delivery and pickup in Geneva & Zürich. 
Sundays are sold at Coop on Marktgasse 24 in Bern, BRIDGE in Zürich, bars and restaurants throughout Switzerland.