Mulled wine is a traditional Christmas beverage typically made with red wine, spices and sugar, which is served hot.  The drink, also known as Glühwein, is synonymous with the holiday season and widely available at Christmas markets, restaurants and retail locations. 
While perennial winter favorites, mulled wine and other traditional holiday drinks tend to have high amounts of sugar and alcohol by volume. For example, when compared to Sundays Hard Seltzer, mulled wine contains nearly double the alcohol by volume and 14x the sugar.
What Christmas drink has less sugar?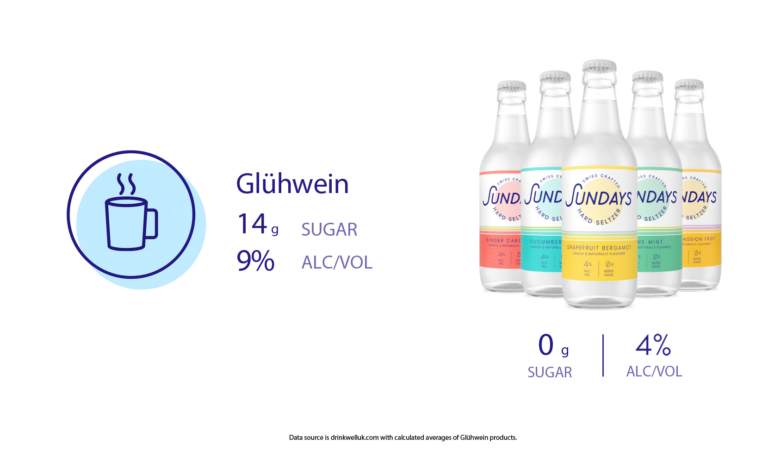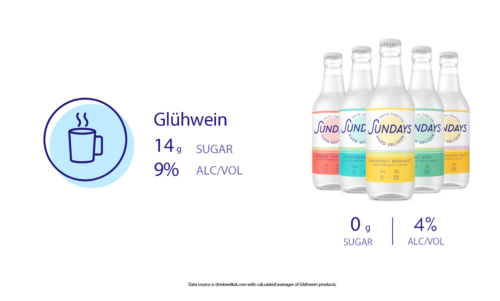 ​​The holidays are for celebrating with family and friends, and for many, these festivities include drinking alcohol.  For those looking for a mindful alternative to glühwine and other traditional sweet drinks this season, consider Sundays Hard Seltzer which is always naturally sugar and gluten free.
For adding a little flavor to your good times. Spice things up with Sundays Hard Seltzer this holiday season – enjoy Sundays low-calorie and low-sugar Christmas drink recipe. Buy Sundays online for free home delivery when purchased here.